Partager la publication "Interview Sandy ALIBO, Founder of SURF GHANA"
We had the pleasure to meet Sandy Alibo, Surf Ghana's founder; a very creative NGO; promoting board sports in Ghana.
PB: Hi Sandy, thank you for accepting this interview with us. Paperbagg Magazine is a media platform based in Algiers and we wanted to introduce our readers to what is happening in the rest of Africa.
SA: Thank you for your interest in the project and West Africa. To my knowledge, it is the first time that a North African magazine is interested in West Africa. That's really something we should mention, we're really separated. What happens in West Africa stays in West Africa, what happens in East Africa stays in East Africa, the same goes for North Africa. We don't communicate too much.
This article is also a hope to connect with Algerian skateboarders and why not to collaborate on projects.
PB: It is true that there is a kind of disconnection between the different parts of Africa and this is precisely the reason why we want to introduce, particularly to young Algerians, what is happening in the rest of Africa.
SA: It makes me very happy. The surfing/skateboarding culture in Morocco is great and more developed than in West Africa, we have a lot to learn. However, I have no idea on what is going on in the other neighboring countries. We haven't been contacted by any North African skateboarder yet but we would be happy to highlight this project and create a connection with the North African skateboard/surf community.
PB: What you need to know is that Algerian external leisure tourism is not as developed as in other North African countries. On the other hand, thanks to social media; especially Instagram; we can observe a rise in the development of domestic tourism among young Algerians. These young Algerians create content while combining board sports and the discovery of Algerian landscapes.
SA: I originally created this NGO in Ghana, but I find it interesting to develop interactions in Africa before even focusing on interactions with Europe or the United States. It's a shame to think that we're not even 1000 km or 2000 km away yet we barely communicate.
PB: Why did you choose Ghana?
SA: First, you need to know that I am not from Ghana, but I am originally Martinican. I took a trip to Ghana 4 years ago and literally fell in love with the country. It allowed me to reconnect with Africa. Ghana has been a modern, safe, calm and stable country for about 70 years. I realized that Ghana holds quite a lot of opportunities so I decided to move there.
PB: Can you tell us about the development of the NGO Surf Ghana?
SA: Initially, I was in charge of the sports sponsorship strategy for one of Orange's 100% digital sub-brands in France. I developed a strong network in boardsports. I met surf, ski, snowboard, skateboard athletes and attended a lot of events. These professionals managed to share their passion with me so I started to skate and surf. I decided to visit Ghana with some friends to immerse myself in a new environment while practicing English. I naturally connected with the surf and skate community which was small and invisible. It was difficult to find this community and I thought that people like me would probably be interested in finding them. I created an Instagram page (@surfghana) to tell the story of skateboarders and surfers in Ghana. I received a lot of messages from curious people asking for hotel recommendations for surf trips or contacts in the surf/skate industry in Ghana. The demand was so important that I decided to create this NGO: SURF GHANA.
The idea is to bring together all the skateboarders and surfers in Ghana and develop a project together.
At first, I wanted to share my skills in the skate and surf industry and in particular to train the members of the collective in events management while developing the popularity of board sports for Ghanaians. Most of the websites dedicated to these sports represent the elite and are not suited to Ghana. Ghanaians do not feel included nor targeted. The lack of representation is an issue.
I decided to focus on black representation in boardsports thanks to this NGO.
In four years, we have managed to multiply by 5 or 6 the number of board sports enthusiasts. Our communication through Instagram contributed a lot. People tell me they would never have imagined that they could do these activities. The lack of representation through the media and advertising campaigns is so important that it has a significant impact on communities. When I founded the NGO, I used to go back and forth from France to Ghana to collect equipment for the organization. The demand in Ghana started to grow: events management, participation in festivals, skateboard demonstrations, surf/skateboard courses. I needed to be in Ghana and work full time on this project so I decided to move to Ghana. At first it was really hard due to the lack of financial support.
Many NGOs promote the idea of ​​"saving Africa" ​​and young people from poverty. I decided to take an artistic, aesthetical approach that represents today's Ghanaian creative scene.
My goal was not to film 5 years old kids, barefoot, in dirty clothes. I wanted young Ghanaians to practice skateboarding the same way as in London, Miami and Paris. Ghanian skateboarders are usually between 15 and 25 years old. They are like other young people, love brands like Vans and Nike and are very creative. We work on content creation, events creation and that's how we get noticed. The collective has developed its own identity thanks to a different communication and narration.
PB: Was it difficult for you, as a foreigner, to start this NGO in Ghana?
SA: Anyone can create an NGO in Ghana. You need a founder and two co-directors. We also have a treasurer and a secretary. It is true that the administration is not as digitized as in France, you need a little patience.       Even if the Ghanian culture does not usually encourage risk taking you still have a real freedom to create. 57% of the population is under 25, so we have a huge support despite the potential incomprehension of other generations. Young people are hyperconnected, especially on Instagram, and are passionate about skateboarding. Today, the NGO is very visible in the media and we were able to obtain the necessary authorizations to practice skateboarding freely in specific places. Mental strength and the identification of  opportunities are two important aspects when launching this type of project. Also, being a woman in the sports industry and particularly in Africa is very challenging.
PB: What place do women hold in the NGO?
SA: As a woman I found it important to support girls in this project. The project is open to everyone, but girls did not dare to come at first. Last year I started the "Skate Gal Club", a girls only club promoting female participation. Parents feel more comfortable leaving their children aged between 6 and 25. Mothers can accompany their daughter so that she can skateboard. The atmosphere is positive and the girls can chat freely. I think that they need to do more than skateboarding so we cook, we do workshops, and artistic activities. The project is warmly welcomed and since its launch about ten girls come every day, others come occasionally for skateboarding-related activities.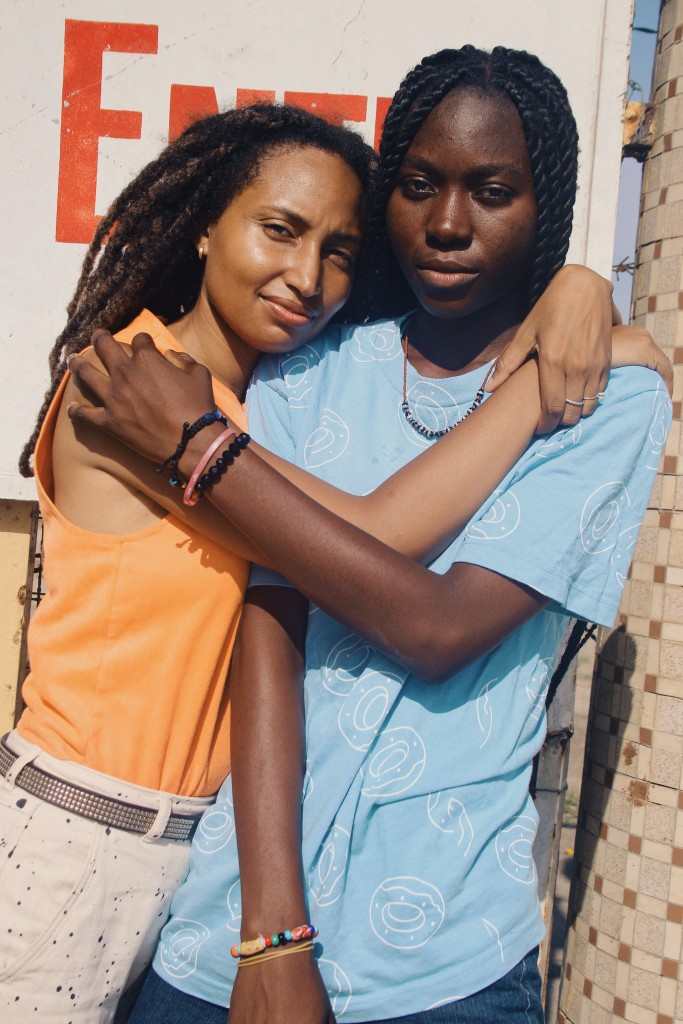 PB: What are the most important values ​​conveyed through this project?
SA: Working together. This is a new value. We must not forget that Ghanians' income is low and they cannot always afford to share. In Europe, people reached beyond the stage of meeting their basic needs. They can eat, pay their bills, have hobbies and time to spend with others, they can join associations. In Africa we cannot necessarily meet our basic needs. Self-esteem is not a priority, so behaviors and the vision of mutual aid and sharing are different.
The idea is not to just have one contract with a brand per skateboarder but to create opportunities for everyone together, at the same time. That's what makes the difference.
I consider skateboarders as equal human beings. I tag them on Instagram posts, anyone can follow them, they are visible. Our meetings are always interactive, organic and friendly. We also communicate through a Whatsapp group and the community is free to communicate. The collective's members can give their opinion and develop their self-confidence. Self-confidence is a mental strength that allows young people to launch their own projects and brands. Others can submit their ideas and try things out.
Today, members of the collective have an occupation. When I got to know them, some were living on the margins.
Some did not go to school, others did not have a job. Now, they develop their skills, help each other out, and look for projects. They can earn a living while obtaining additional income by making music videos, photoshoots, giving skateboard lessons and creating content. Today, members have at least five opportunities a month allowing them to double their pay. That gives them a different vision of sport. The collective represents mutual aid, mutual support and a second family. Young people do not always discuss certain subjects with their parents, so the collective allows them to discuss their projects, ambitions and potential stress. They have the opportunity to share ideas and develop them through the NGO. For example, they can learn how to use online tools like Google Drive, Pinterest and how to create moodboards.
PB: How did COVID-19 impact mentalities in Ghana?
SA: This pandemic is positive in the sense that the internet has been further developed and anything is possible today. In Africa, if you can't afford to study abroad, if you haven't studied in a famous business school then you don't get recognition. If you want to be successful in Africa, then you have to study abroad, especially in Europe, a few years and then come back. This is also a message conveyed through the media.
Mentalities are changing and all the money potentially spent on studies in Europe could be directly invested in a project in Africa.
Overseas-based production teams not able to travel to Ghana due to this pandemic have options now. They can set up local production teams and manage projects using digital tools. A lot of local talents able to create value without necessarily being assisted by someone in Europe or the United States were revealed.
PB: What direction do you want the collective to take?
SA: I consider the collective as an agency. All members have skills that they can leverage for brands, events and other NGOs. The goal is to promote board sports. Today, major brands are contacting us for event strategies around urban culture. I share these projects with the members and ask them what they imagine. For example, one of them would want to paint a skateboarding ramp, others would offer to produce a custom skateboarding ramp for the brand, give lessons, design t-shirts, and draw. This is quite new for young people, they learn how to develop brand content without necessarily having to complete a Masters Degree.
We worked with the United Nations in this way. We educated young people about the sports culture during World Food Day.
We do everything ourselves, for ourselves. People like that. We allow everyone's skills to be revealed. For example, a female skateboarder from the collective became a freelance photographer. I connected a young talented skateboarder, Addy (@smile_with_addy on Instagram), with several production companies in Africa to create animated films. Now he has contracts in several countries. I imagine the collective as a brand content agency dedicated to board sports that also manages sports infrastructures. In the long term we could also develop sustainable tourism dedicated to board sports.
We are in the process of creating a skatepark which will be managed by members of the NGO. Skateboarding lessons will be given, a café and a skate shop will be managed.
PB: Which collaboration with Surf Ghana has moved you the most?
SA: The collaboration with OFF WHITE and DAILY PAPER is a celebration as the co-founders are from the Ghanaian diaspora. These brands showed a real interest in the project and have a modern and dynamic vision of Africa. Finding brands with the same ambition as Surf Ghana, who consider the NGO as a new model of development is a pride. This collaboration is strong because we worked hand-in-hand, the brands shared their marketing vision and aspirations, we had conversations and felt considered and listened to. Surf Ghana worked on the designs' creation for this collaboration, the members created moodboards and made research.
This "Freedom & Skate" project, in collaboration with OFF WHITE and DAILY PAPER, represents us and refers to the inscription "Freedom & Justice" on the Ghana Independence Arch.
It is a strong symbol of the independence of Ghana in 1957, the first democracy in Africa. We also chose to name the future skatepark "FREEDOM" as a reference to it. For this collaboration, the skateboarders worked on a photoshoot with DAILY PAPER. The interaction with the brands was humble, respectful and sincere. The collaboration was sold out within a day which allowed us to finance half of the project, something that was difficult in the past despite our crowdfunding campaigns.
I thank Virgil Abloh and Jefferson Osei, two visionaries to follow, who have greatly contributed to the project.
Virgil Abloh supports a lot of people on a daily basis and Jefferson Osei, via DAILY PAPER's great history and values, represents Africa as a whole. DAILY PAPER is one of the few brands to have embarked on the establishment of a pop up store in Africa.
In Africa, we don't just want donations, we also want to be considered by investors and brands.
OFF WHITE and DAILY PAPER helped us create a product with 100% of profits for Surf Ghana's project. This collaboration was successful as brands involved understood that a new model of collaboration is possible. Some brands have much more complicated and strict procedures for collaborations with NGOs. OFF WHITE and DAILY PAPER have been following Surf Ghana for a few years which allowed them to observe the consistency in the organization's activities development. Also we managed to build a strong reputation in Ghana and are now recognized.
It is impressive that a sports infrastructure will be created by young people for young people using the private route, without financial support from the government.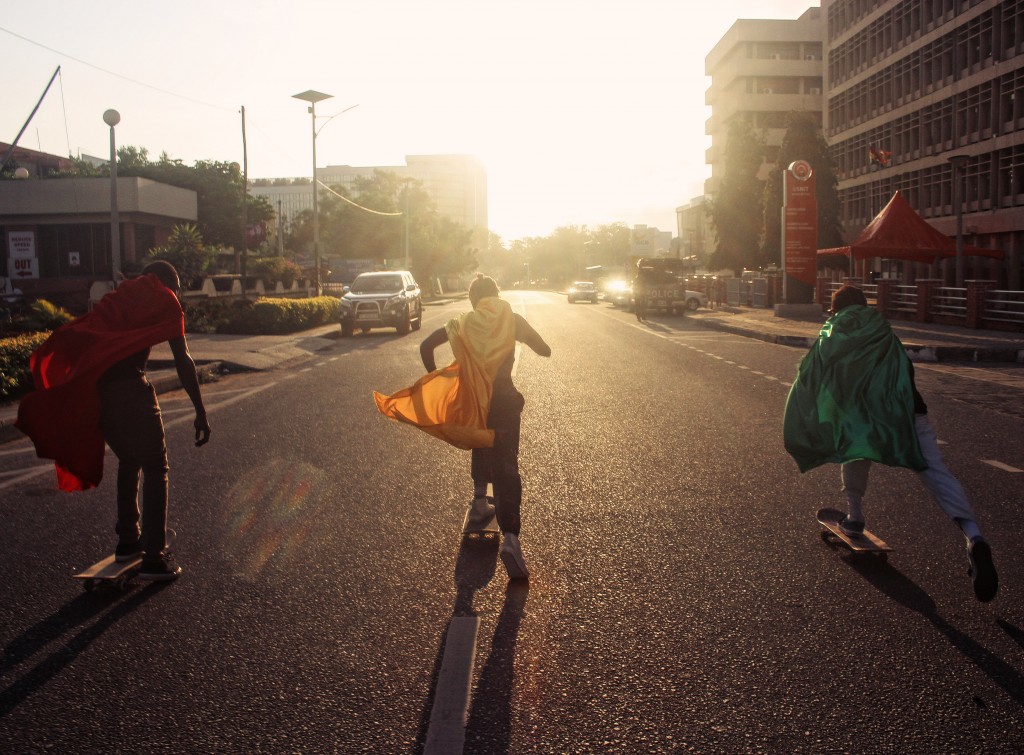 PB: Do you have any advice for young Algerians willing to start their own project?
SA: You have to connect with other people, other NGOs. Never hesitate to ask for help, especially via social media platforms. Everyone is accessible nowadays. Social networks are simple and efficient. For example, I receive, daily, messages from people in need of advice on projects or even to travel to Ghana. I never refused because I also needed help when I started. You have to work hard, never give up, pursue your dreams and always ask for help from people in your country and even abroad. For example, today I got a message from a skate shop in India offering help to Surf Ghana. Everyone is looking for new operations models for their projects. You have to knock on all doors, not to shut yourself up and communicate.
It would be a great pleasure to collaborate with people from North Africa; Moroccans, Algerians, Tunisians. We have already worked with Senegalese and it went really well.
Commentaires
Commentaires